My Spares Donor
I have invested in a rather sad looking car. I was given a tip-off by an AutobahnStormers member that there was a Lotus Carlton for sale in a salvage yard. I made an enquiring phone call, discussed the price and what was available and left a deposit. Two weeks later, my Dad, a friend (Jon White) and myself set off for West Wales in a LWB Transit (I lowered myself to drive a F**d :o) ) to go and dismantle this car. It would have been a great deal easier to bring the whole car back on a trailer but the shell had a destruction order on it and could not leave the salvage yard.
This car, no 0305G, a British spec. car was last owned in Swansea and I estimate was crashed in August 1999.
It doesn't look too bad from the back....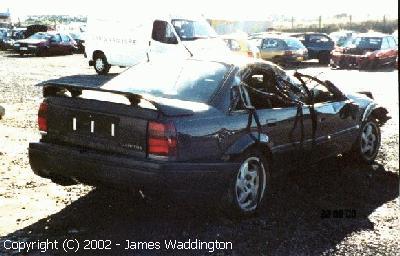 ...doesn't look too clever now...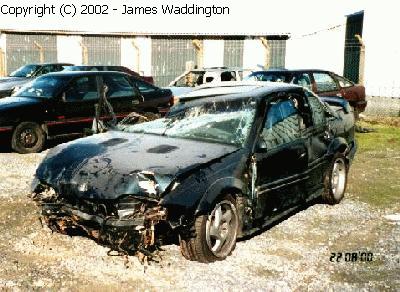 ... very sad, RIP.
Back to: